STAR Program Recipients Spring 2021
The STAR Program offers Columbia Law School administrative staff a way to acknowledge and express appreciation for co-workers who make a difference in their everyday work life.
Pictured below: STAR Award recipients with Dean Lester (Left to Right) Celia Gavett, Yadira Ramos-Herbert, and Jacob Rosati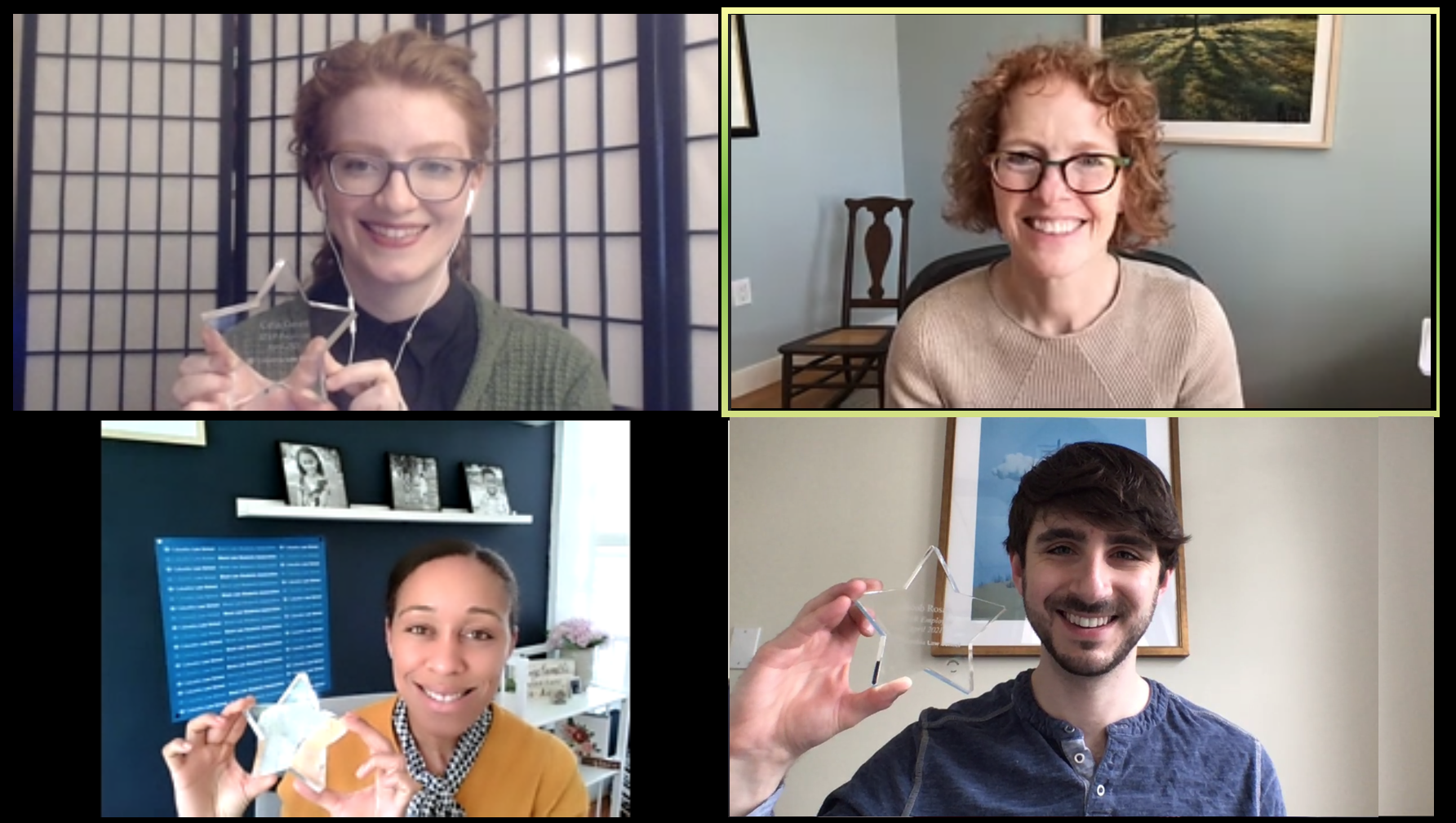 Spring 2021
These are the recipients of the Staff Appreciation and Recognition (STAR) Program for the Spring 2021. In addition to being recognized at our Law School staff luncheon, recipients will receive $2,000 and a crystal STAR award as a signal of the school's appreciation.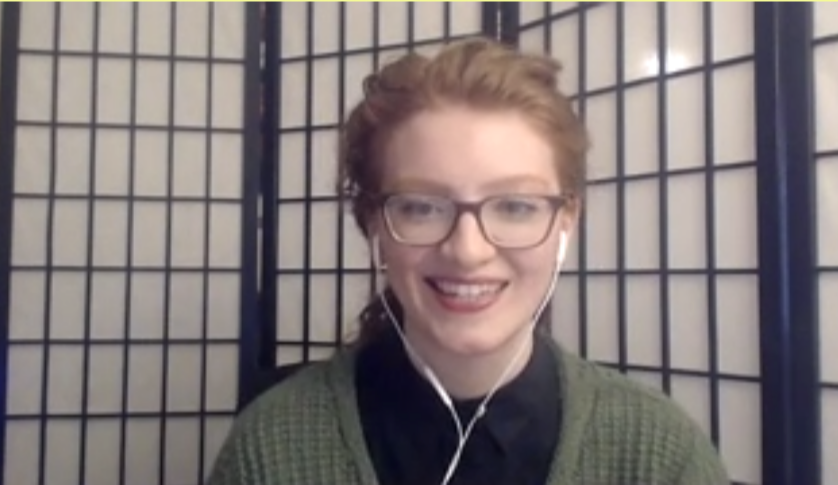 Celia Gavett  

Law Cataloger
Law Library
Celia Gavett is a cataloger in the Law Library, and while the position of cataloger is among the least visible to the wider community, it's an indispensable role that ensures patrons and researchers have comprehensive access to the Library's treasures. Over the last year, Celia was instrumental in facilitating a smooth transition from an in-person workflow to a complex remote cataloging process. Thanks to her efforts, the Cataloging unit never slowed down—even when the department head position was vacant. 
 
Celia's work on COVID-era cataloging procedures has allowed the Law Library to focus patrons' attention on electronic access to materials, since the print collection has largely been inaccessible. Embracing significant disruptions to the Library's work, Celia leveraged her technical expertise to create a virtual workspace for her colleagues in the Cataloging unit. 
 
Celia is determined, organized, smart, unafraid of change, and always ready to help. Her professional expertise and personal qualities, her contributions to the Law Library, and her outstanding performance make her a remarkable librarian and cataloger. Celia is admired and respected by her colleagues, and she is definitely a Law Library and a CLS star!
Yadira Ramos-Herbert

Associate Dean 
Student and Registration Services 
As Associate Dean of Student and Registration Services, Yadira Ramos-Hebert has one of the most demanding and critically important jobs at the Law School. She nonetheless approaches her work with positivity, collegiality, and energy, and our entire community benefits from her approach. 
 
Yadira tackles with ease the many problems and roadblocks that come her way each day. In her Student Services meetings, a phrase like "we tried it before" is not often said without adding "how could we make it better this time?" She continually challenges her staff to innovate, seeking to keep things exciting and engaging for students and never resting on her prior successes to prevent her from trying out new ideas.
 
For her fellow team members, Yadira's leadership is unparalleled; good leaders lift up and inspire those around them, and she always recognizes when someone has gone above and beyond. For her, no task is too small, and this commitment to the work inspires her team to always try harder and improve upon existing processes. Students and student-facing offices know that Yadira is a reliable 'go-to' person for information and as a sounding board, and she also helped inculcate this ethos for the entirety of Student Services.
 
The culture Yadira has created speaks to her empathy, leadership, and dedication to Columbia Law School, and demonstrates that she is most deserving of the STAR award!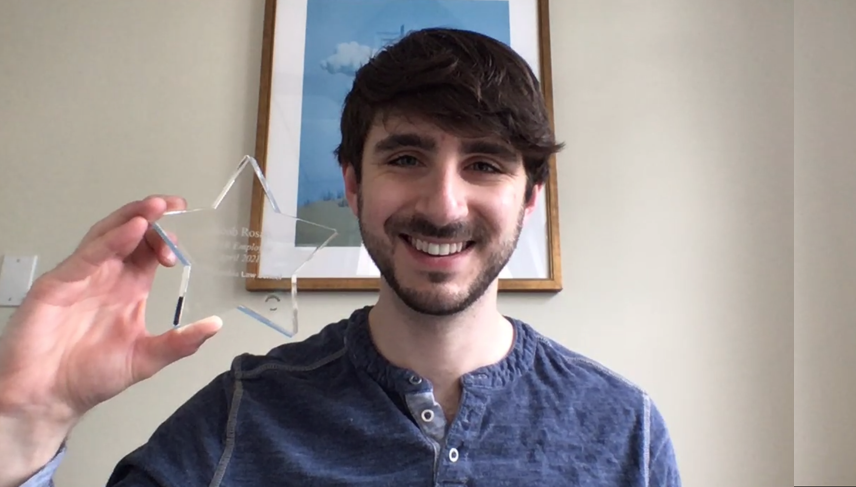 Jacob Rosati

Manager of Multimedia Content
Communications
It would be hard to find someone who has been more critical to the Law School's transition to a vibrant digital life. Jake single-handedly produced last year's virtual graduation ceremony, which has received more than 15K views on YouTube, and has been the lead editor of Beyond Unprecedented, the Law School's first school-sponsored podcast series. These examples highlight just a few of the ways in which Jake has innovated over the past year, learning new processes and tools, committing himself to put out work products of the highest quality, and always being willing to follow through on a good idea, even if it requires more time and effort on his part.
 
Jake is also a model Law School citizen. He has developed a strong working knowledge of the Law School and is an unfailing resource for faculty, staff, students, and staff colleagues, going above and beyond to assist—even when faced with difficult and stressful situations.  
 
This year, Jake has also been working overtime to prepare for this year's graduation ceremony—solving problems, proposing innovative solutions, and always available as a partner to his peers. The STAR Committee is thrilled to be able to acknowledge Jake's contributions to the Law School.