STAR Program Recipients Summer 2021
The STAR Program offers Columbia Law School administrative staff a way to acknowledge and express appreciation for co-workers who make a difference in their everyday work life.
Pictured below: STAR Award recipients with Dean Lester (Left to Right) Jose Martinez, Kristen Asp, and Lilia Hadjiivanova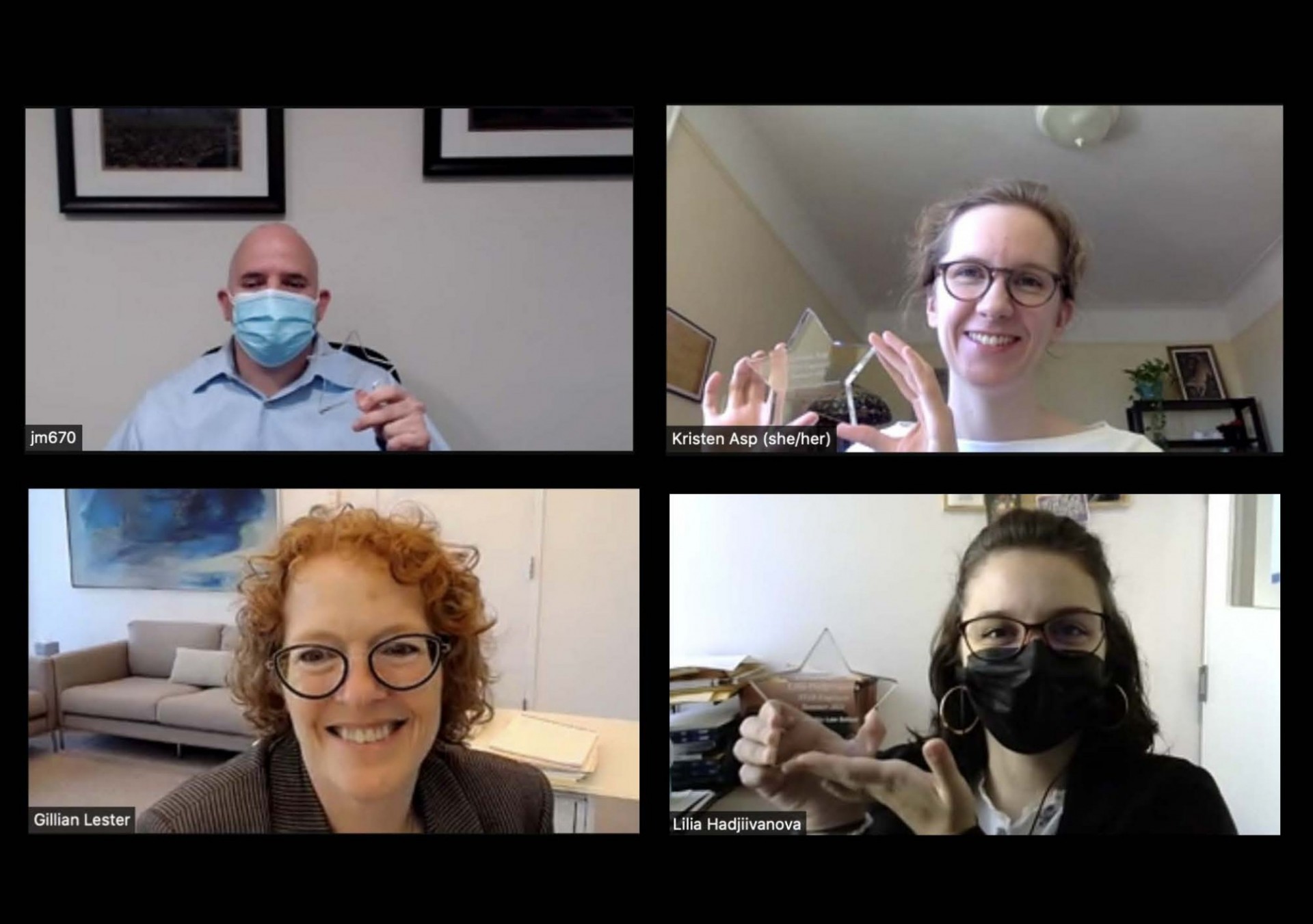 Summer 2021
These are the recipients of the Staff Appreciation and Recognition (STAR) Program for the Summer 2021. In addition to being recognized at our Law School staff luncheon, recipients will receive $2,000 and a crystal STAR award as a signal of the school's appreciation.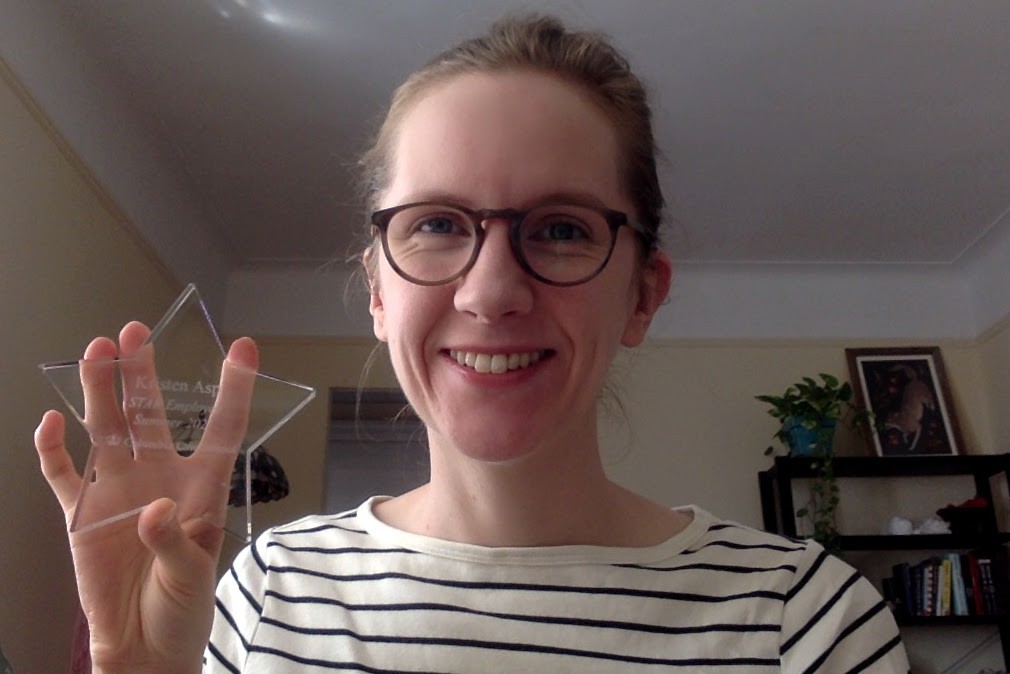 Kristin Asp  
Web Producer and Digital Asset Manager
Information Technology 
Even if you don't know Kristen Asp personally, you've almost definitely intersected with her work. She is a web wizard and photography phenom who helps keep the many websites under Columbia Law School's purview running smoothly and looking great. She approaches her work with patience and empathy, always happy to turn away from what she's doing to help a colleague or answer a question. Kristen's eye for detail serves her just as well when she's triaging web issues as when she's illustrating comic strips for the Law School's Virtual Warren mailer. A true Renaissance woman who is on her way to becoming a top notch lawyer herself, the CLS community is brighter with Kristen among its ranks. Her clever approach to problem-solving, warm demeanor, and razor sharp sense of humor make her a joy to work with. She is a CLS star through and through and we're thrilled to acknowledge her with a Summer 2021 STAR award.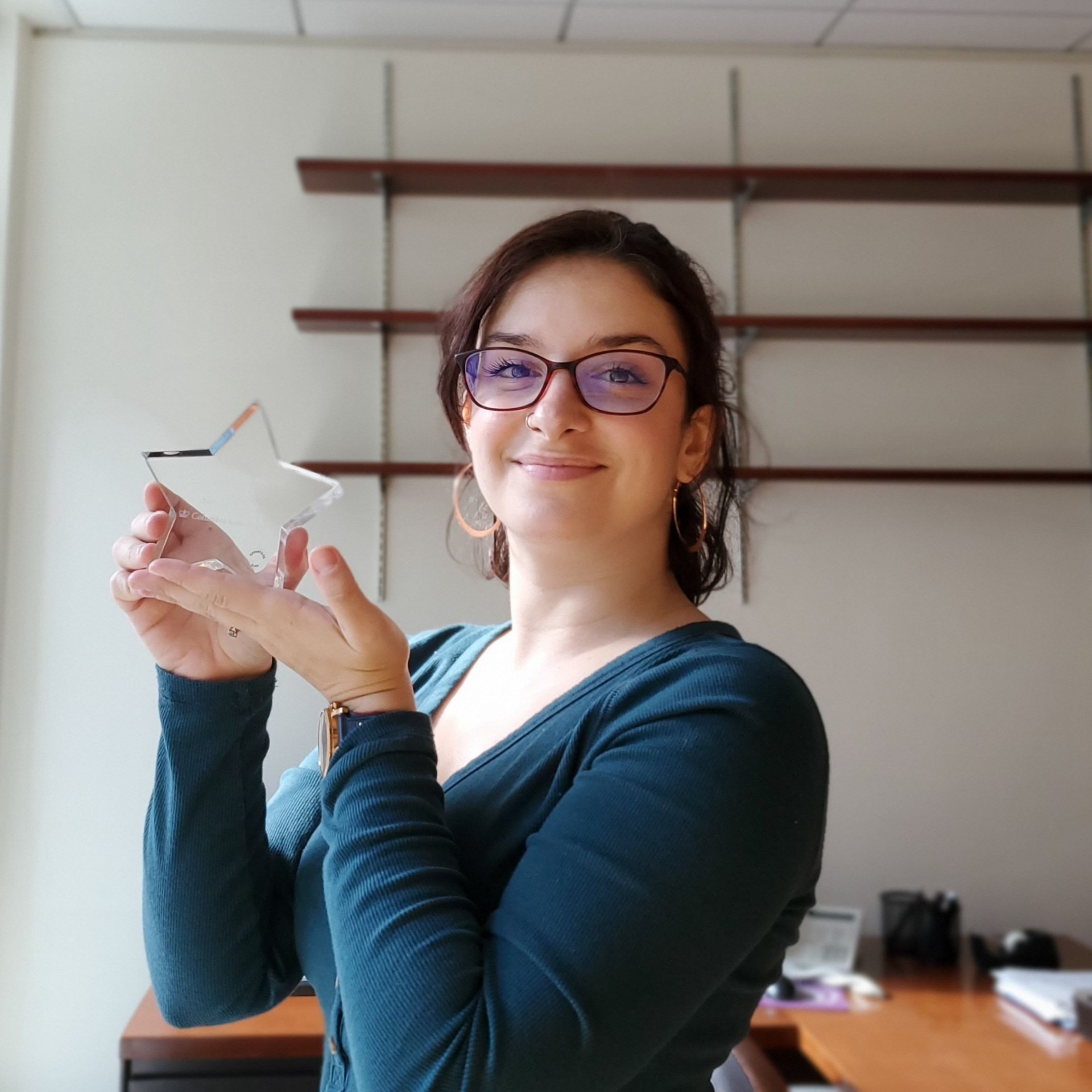 Lilia Hadjiivanova

Assistant Director
Center for Gender and Sexuality Law 
Lilia joined Columbia Law School in the fall of 2019, just a few months before the pandemic, as Assistant Director for the Center for Gender and Sexuality Law (CGSL). Her peers laud her for her exceptional dedication and creativity during this very challenging period. One recent example of the innovation and citizenship she brings to CLS can be seen in the CGSL's latest legal report, We the People (of Faith). With a limited budget for the project and no prior experience with graphic design, Lilia taught herself how to format the whole report from scratch. The entire team was blown away with the fantastic results of her experimentation and problem-solving! Lilia has also been a key player in the rollout of the report by leading the project's social media plan, editing a launch video, and reaching out to journalists. In recognition of the special ways she enriches both the internal work environment and the public-facing outcomes of the Center, the committee is delighted to recognize Lilia as a Summer 2021 STAR.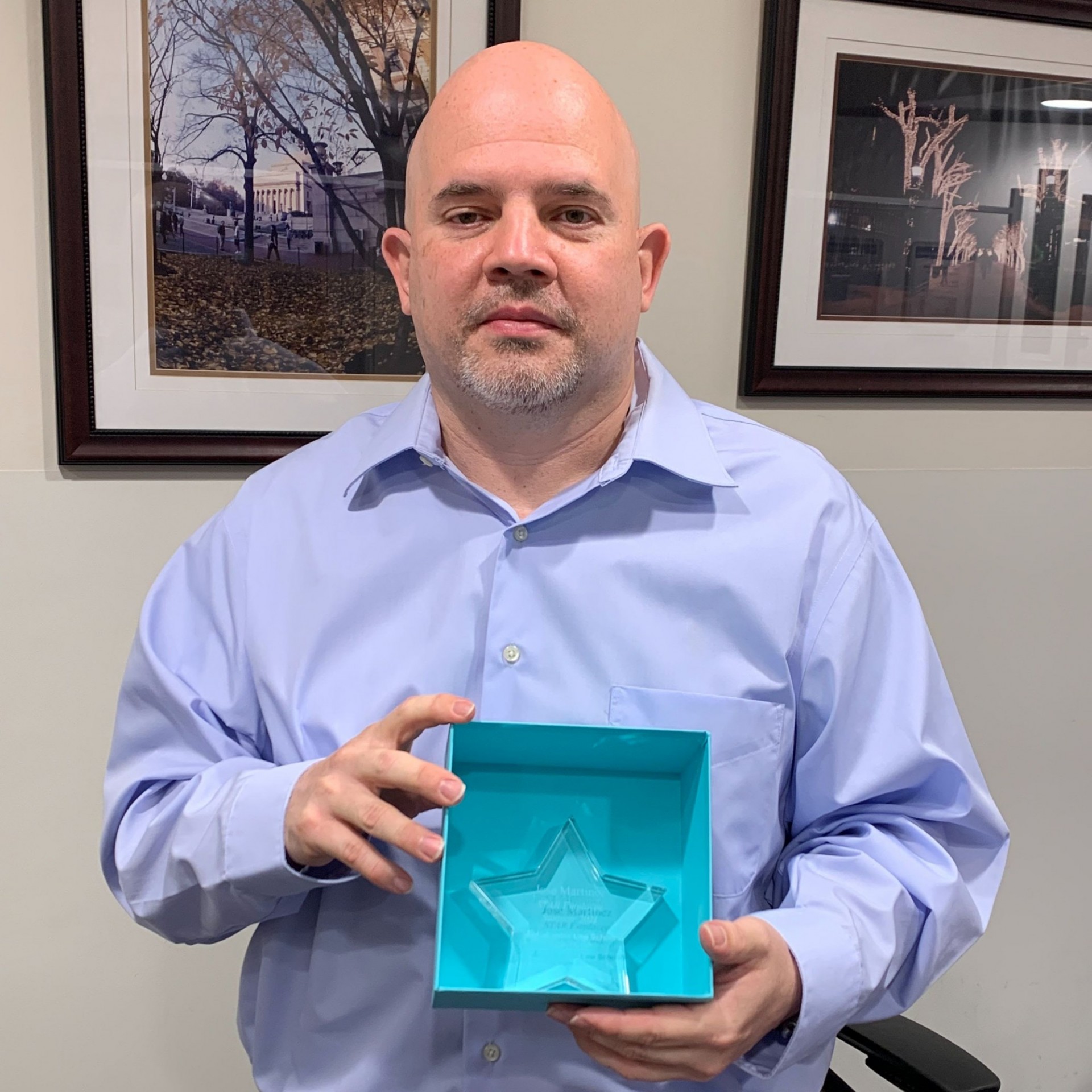 Jose Martinez
Office Assistant
Building Services and Operations
Jose Martinez has been an invaluable asset to the Building Services and Operations Team. Jose is extremely resourceful, a team player, and always willing to assist faculty and staff as he makes his way around the Law School each day. He has shown initiative in problem solving and goes above and beyond in working through complex issues involving the Law School's relationships with USPS and FedEx, in particular de-escalating conflicts regarding inbound and outbound shipments. Jose is an ideal candidate for the STAR Award and we are pleased to recognize his hard work and dedication to Columbia Law School!